I took a blogging hiatus in 2014 so that I could focus on being pregnant and bringing our baby girl into the world!  Now, that that's all taken care of, my hiatus is officially over, and I'm looking forward to getting back into my regular blogging routine.  My routine will definitely be a little bit different than what I'm used to (I'm writing this post with one hand and holding a tiny sleeping babe in the other!), but either way, I'm excited to share all of the beautiful moments we captured during our 2014 wedding season.  :)
In early May, we traveled to Lancaster, PA to capture Michelle and Nathan's wedding at the Cork Factory Hotel.  Michelle and Nate live in Hawaii (lucky them!), but they are both from different areas of Pennsylvania.  They decided on Lancaster, PA as their wedding destination, because it was almost exactly halfway between their respective hometowns, and the Cork Factory Hotel had the perfect vintagey vibe they were going for.  We had such a great time at this wedding!  Michelle and Nate were kind enough to share a little bit about their wedding day from their perspective.  Be sure to read their comments throughout the post!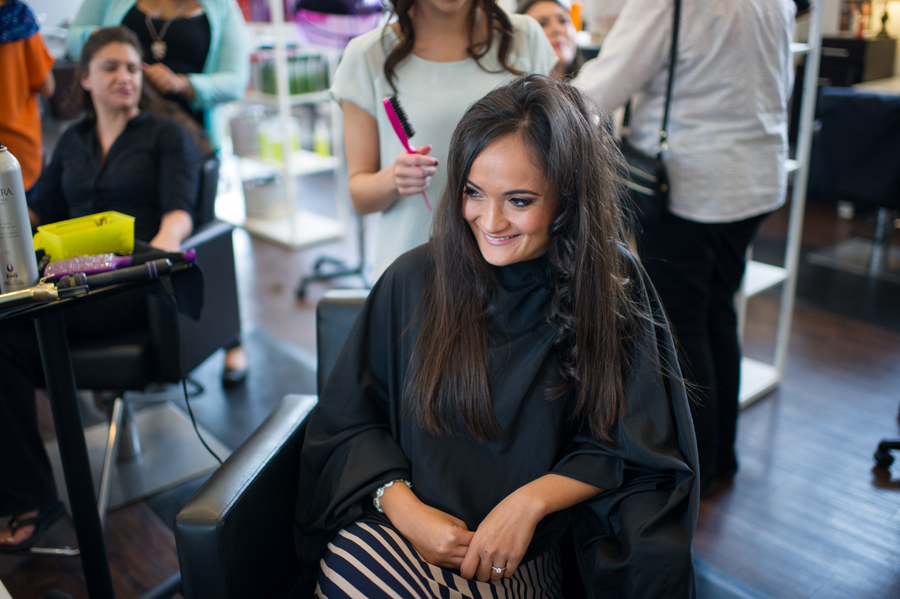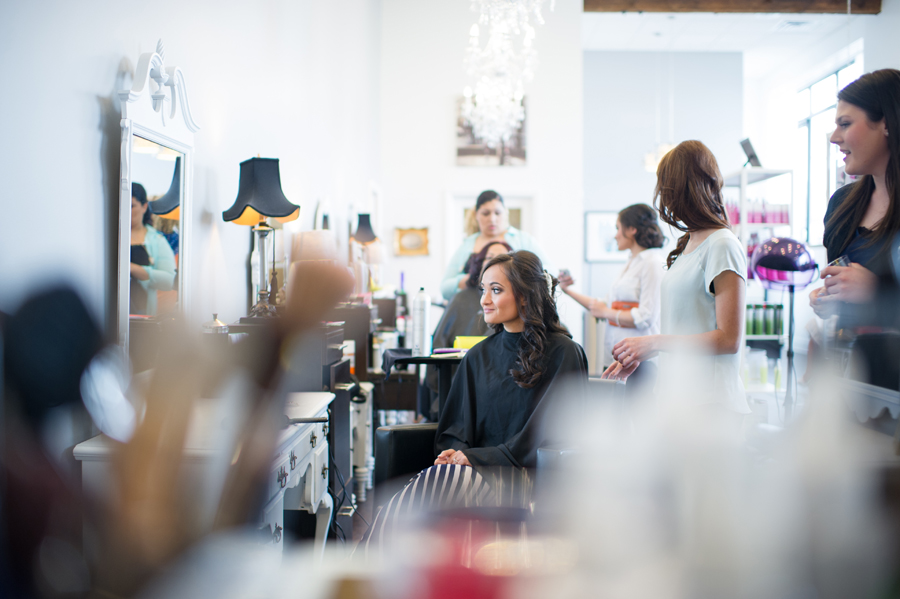 Michelle:  "We aren't a traditional couple and we knew we didn't want the traditional white wedding. The inspiration for our wedding day was vintage chic. And that's eventually how we decided on the venue, Cork Factory Hotel, because it fit our vintage vision as an old Historic Cork Factory turned into a Boutique Hotel. We rented a ton of vintage items from Swoon Vintage Rentals to incorporate details like the typewriter, marriage themed books, antique keys, bird cages, and a navy velvet love seat for our Big Day.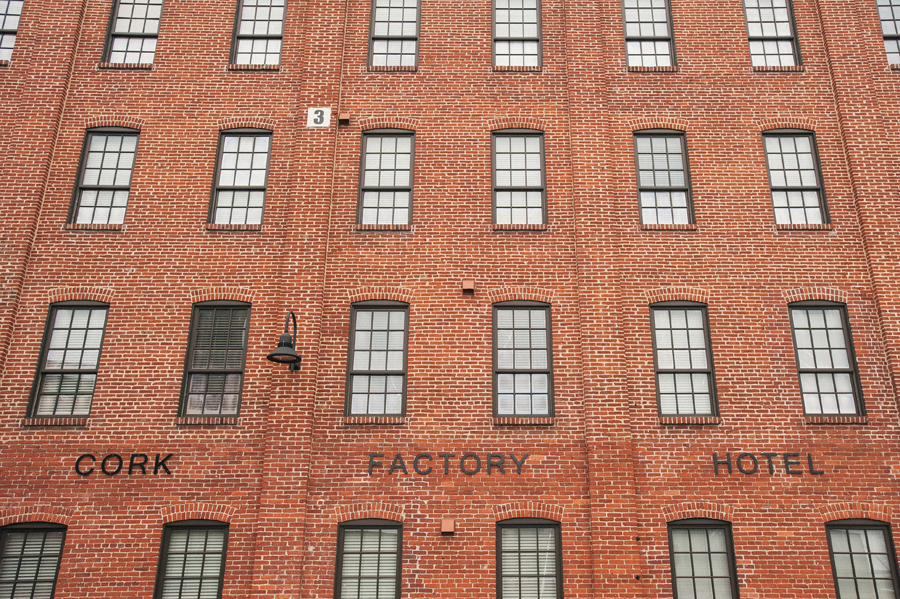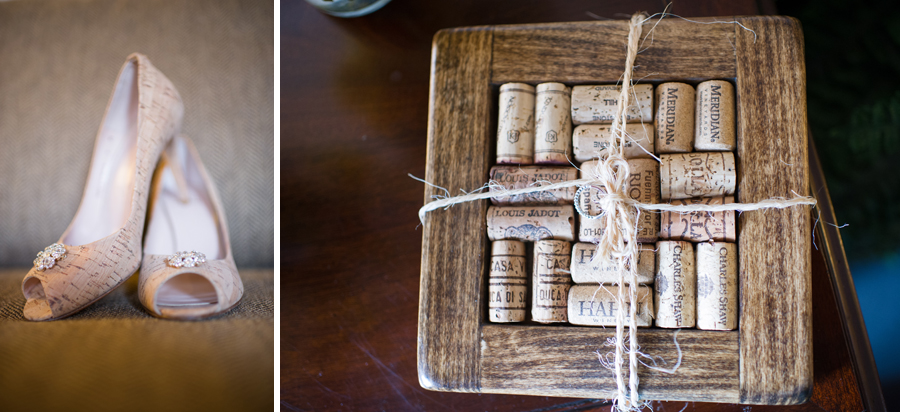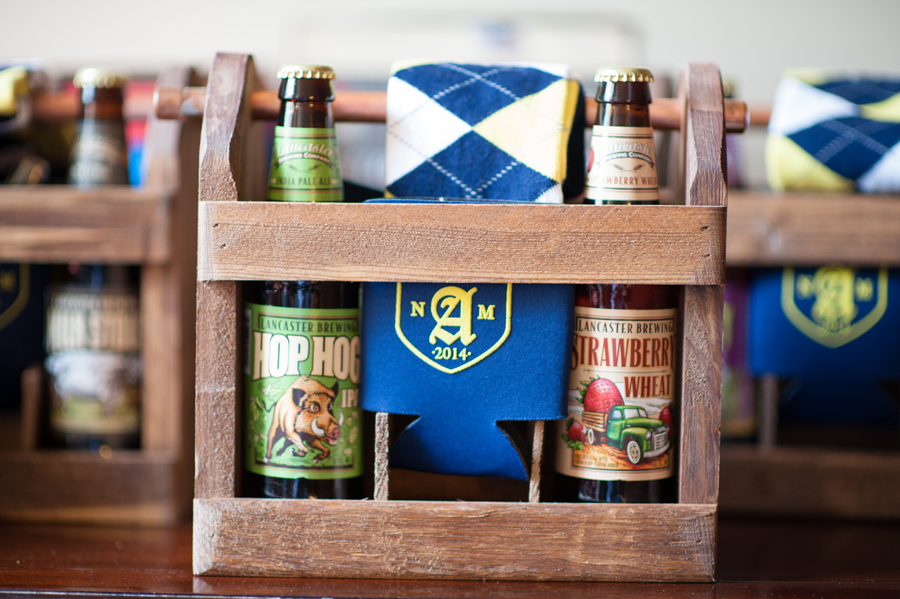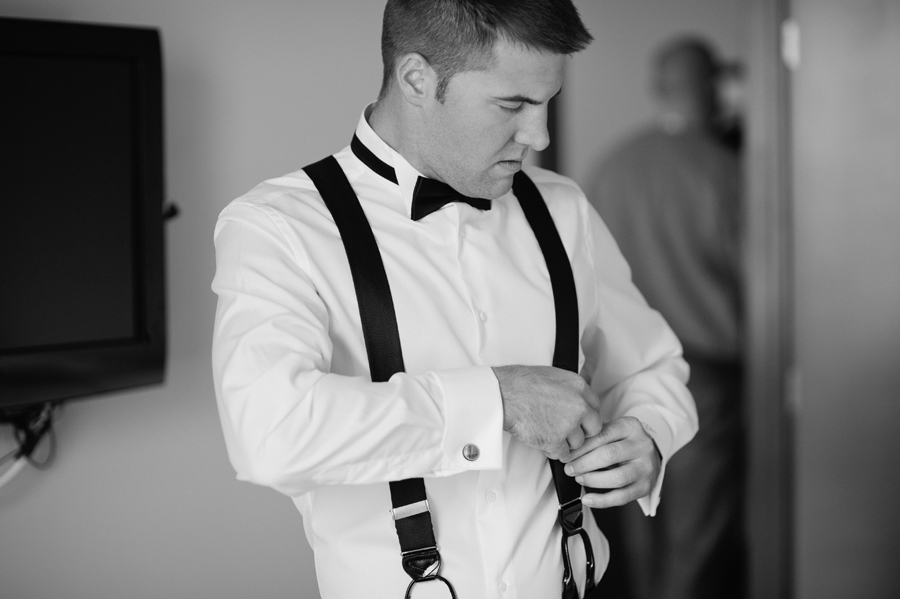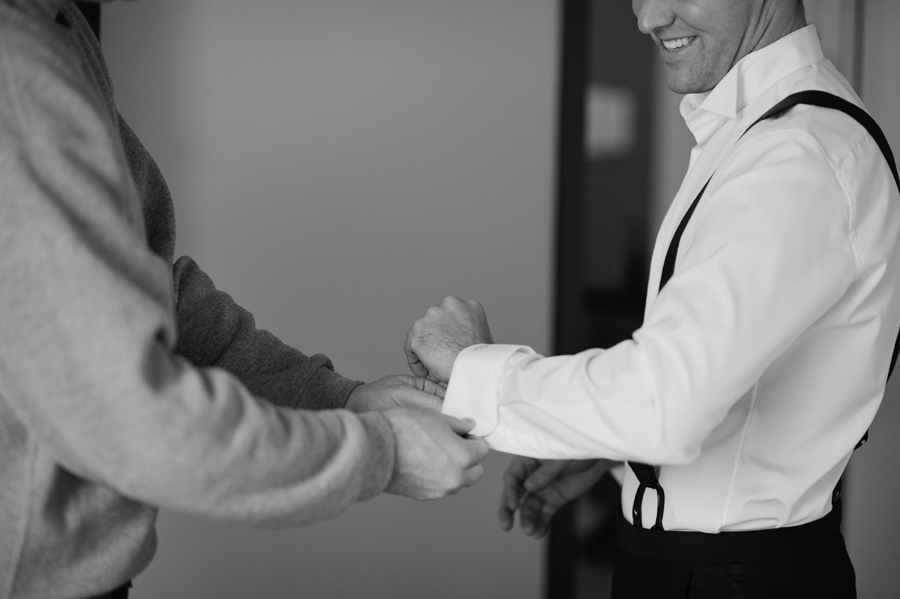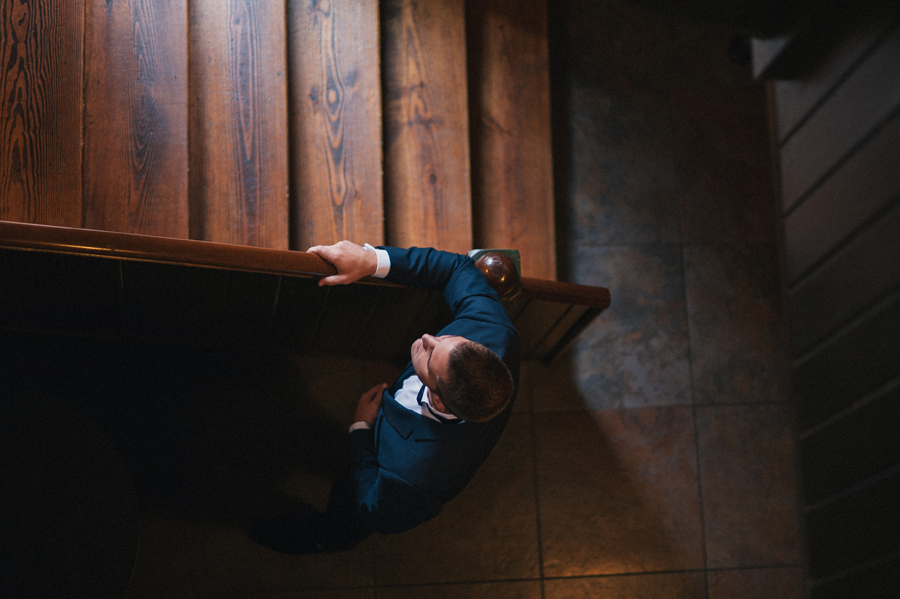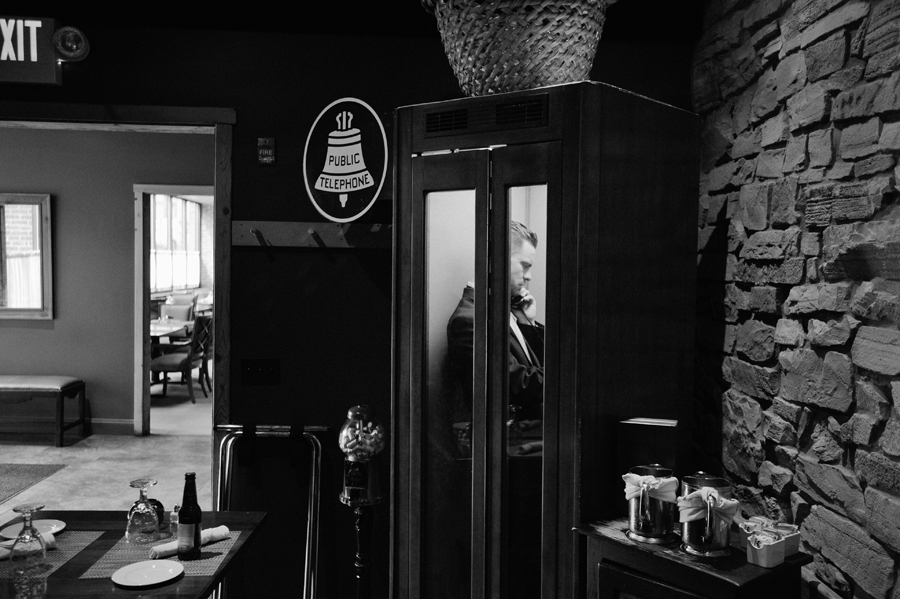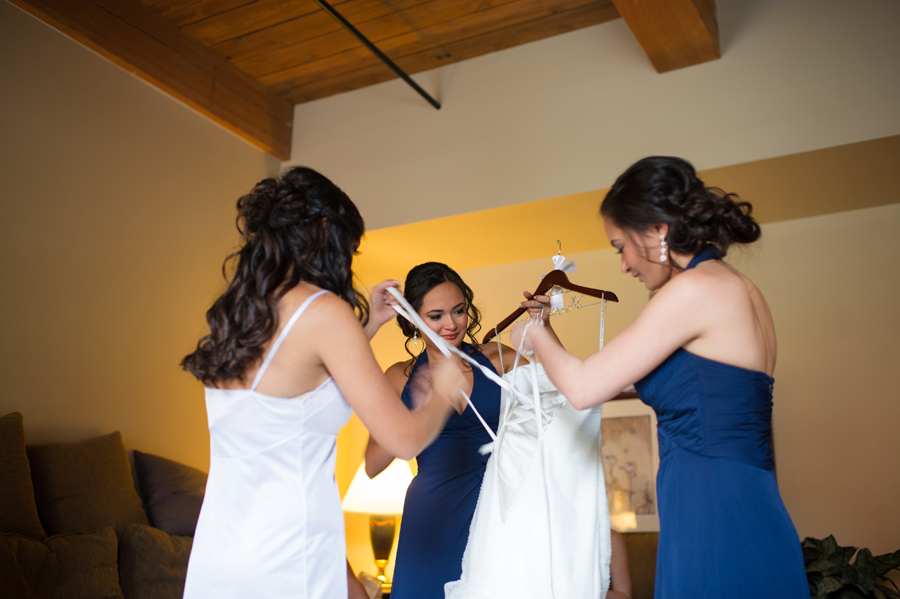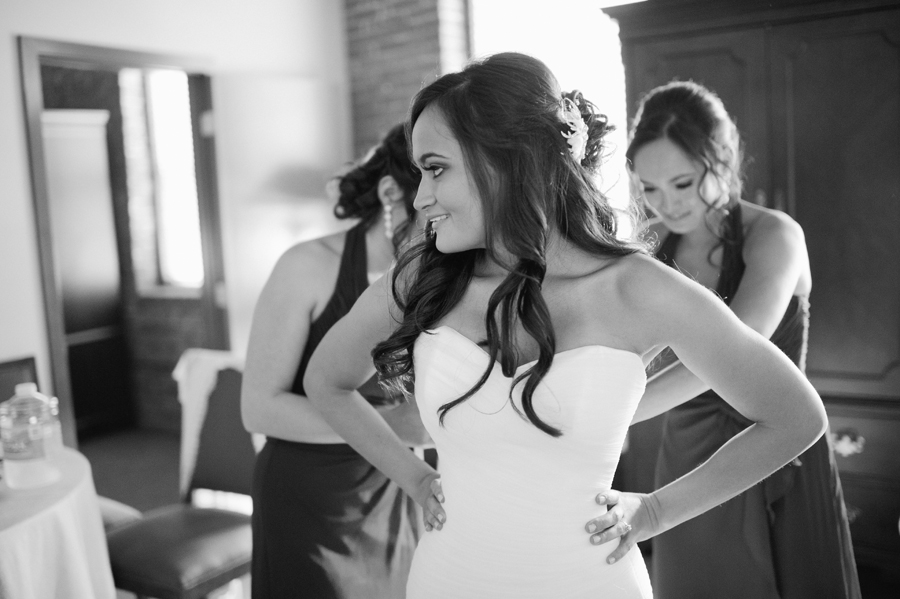 Nathan:  "When I turned around and saw my future wife for the first time during our first look, I knew it would be forever!"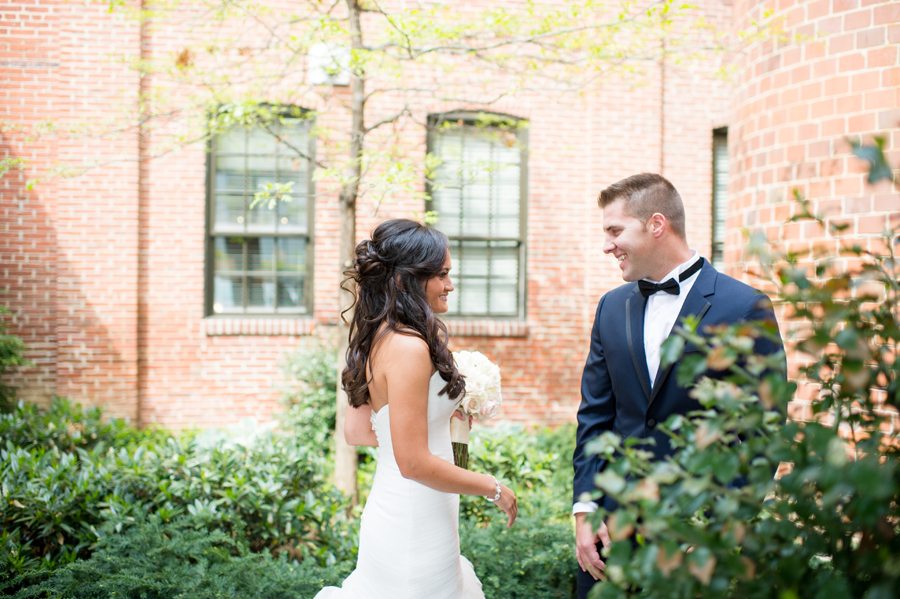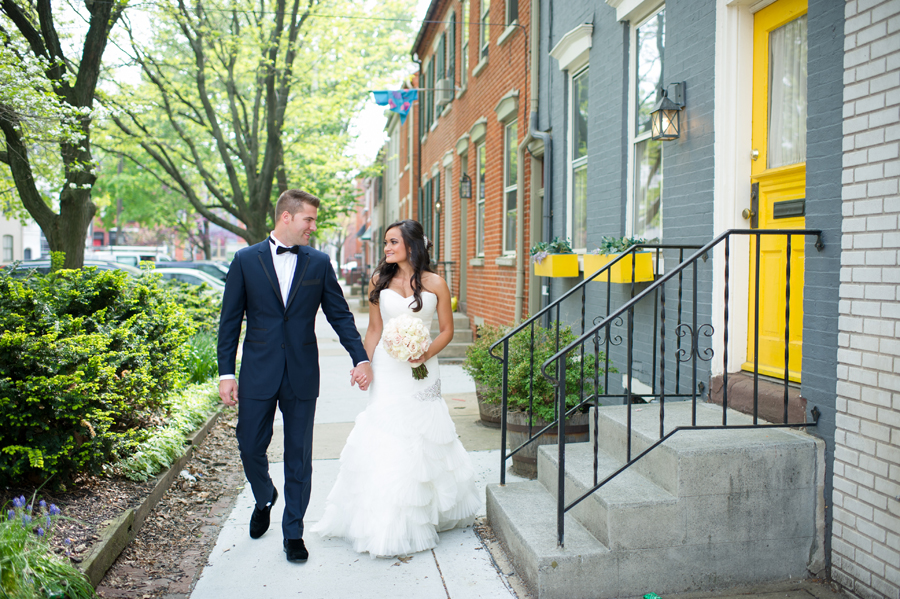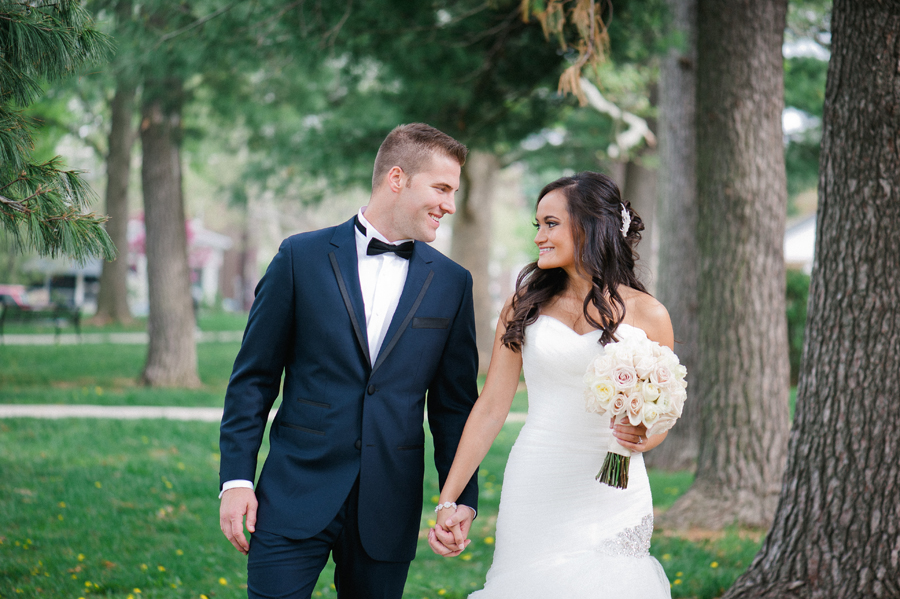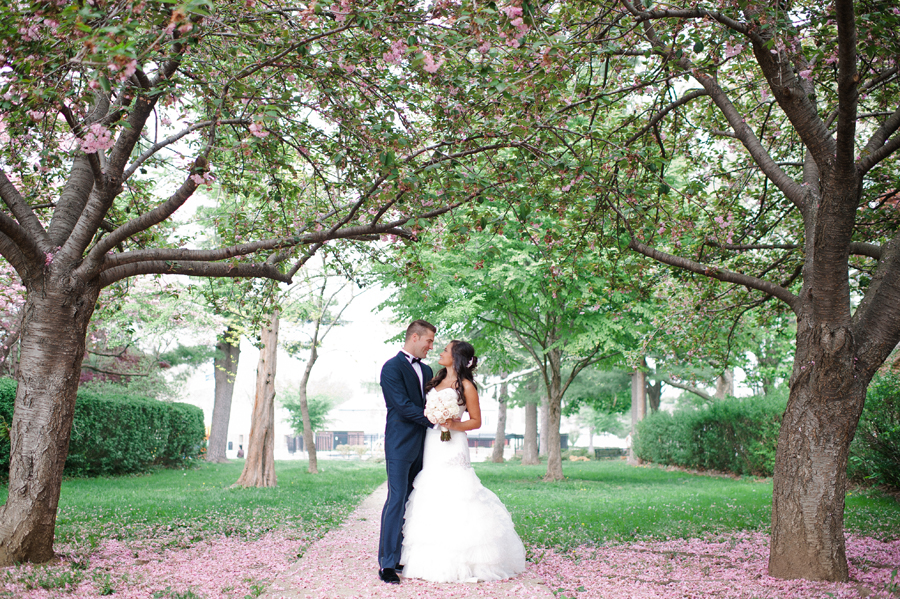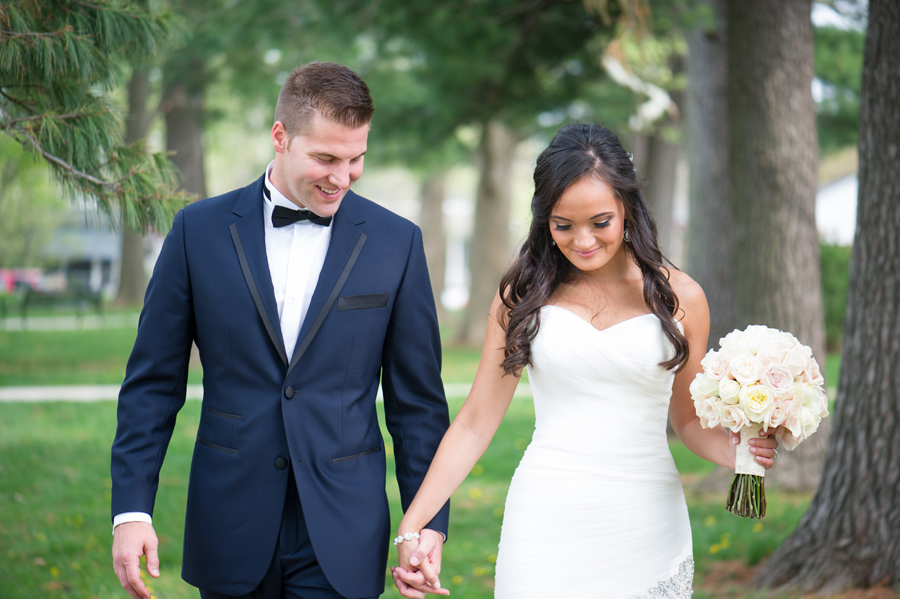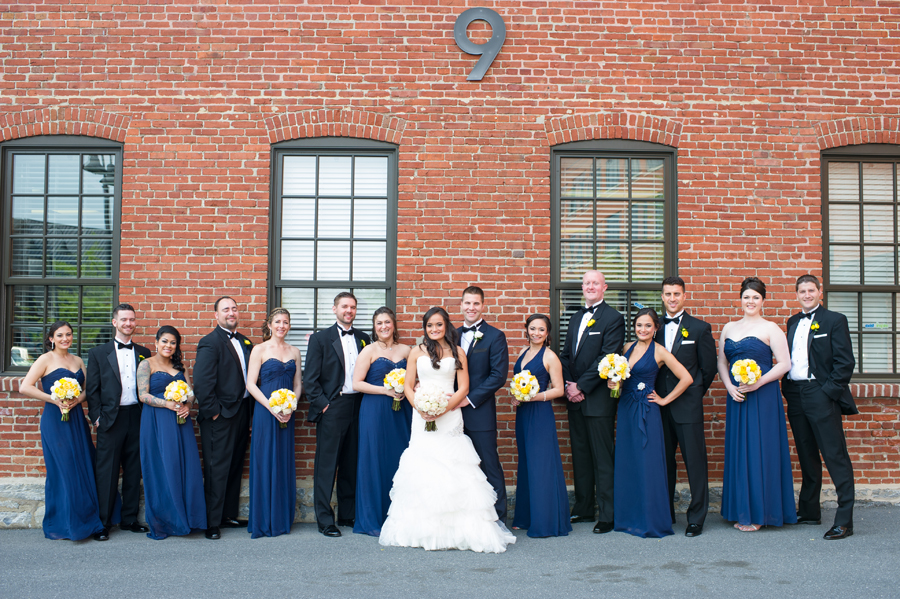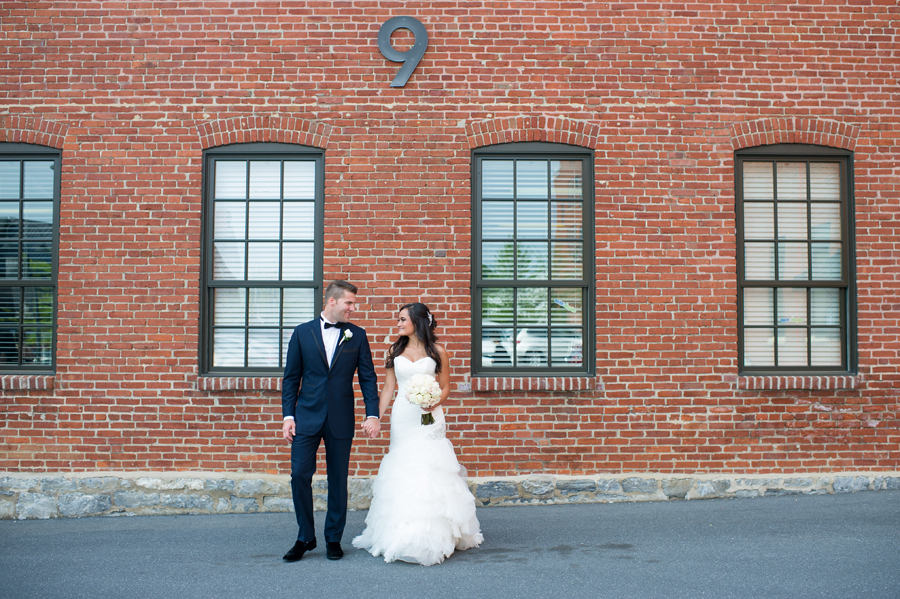 Michelle:  "I loved seeing the aisle lit up by tons of candles as I got ready to walk down. It was great to see everything we planned come together for the first time. And then to see my husband waiting at the end of the aisle was an even more beautiful sight than I had imagined!"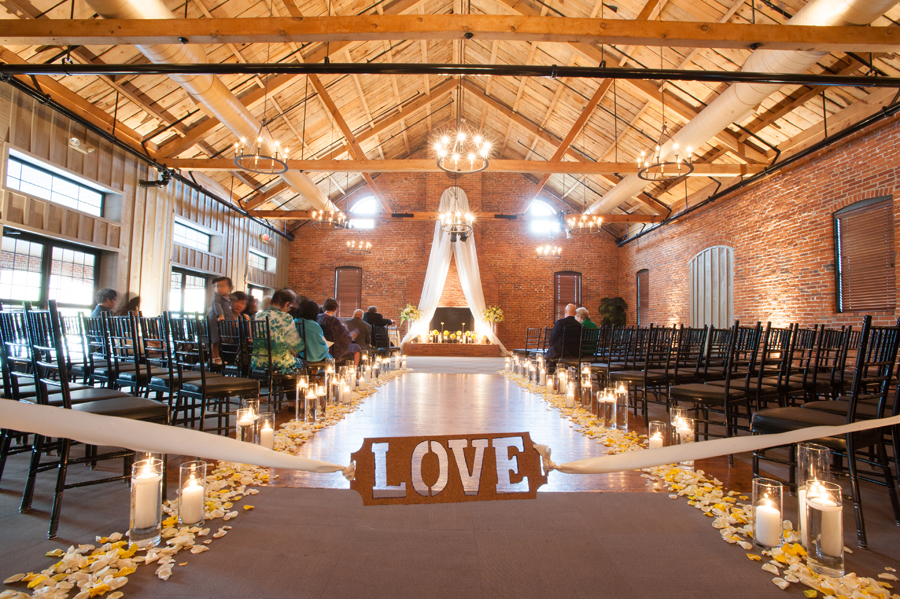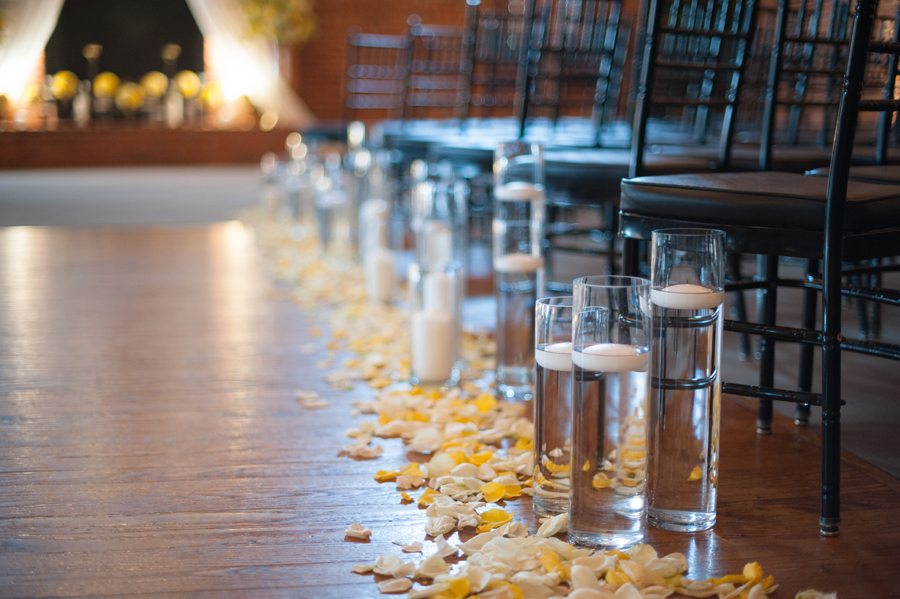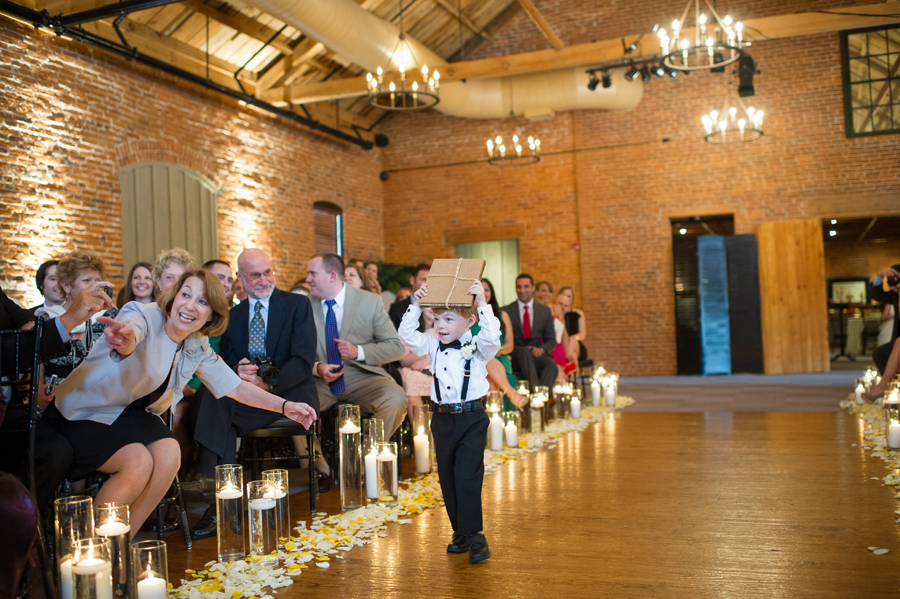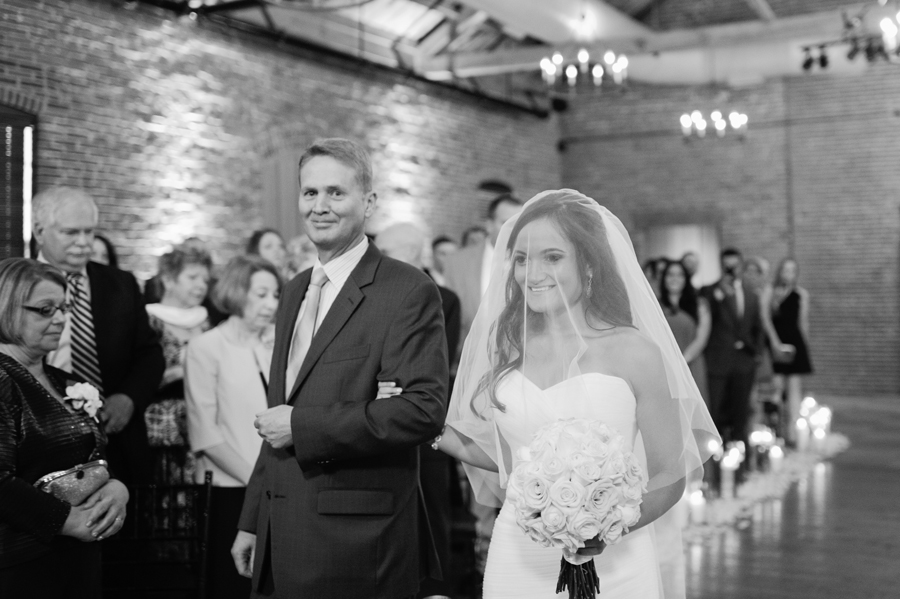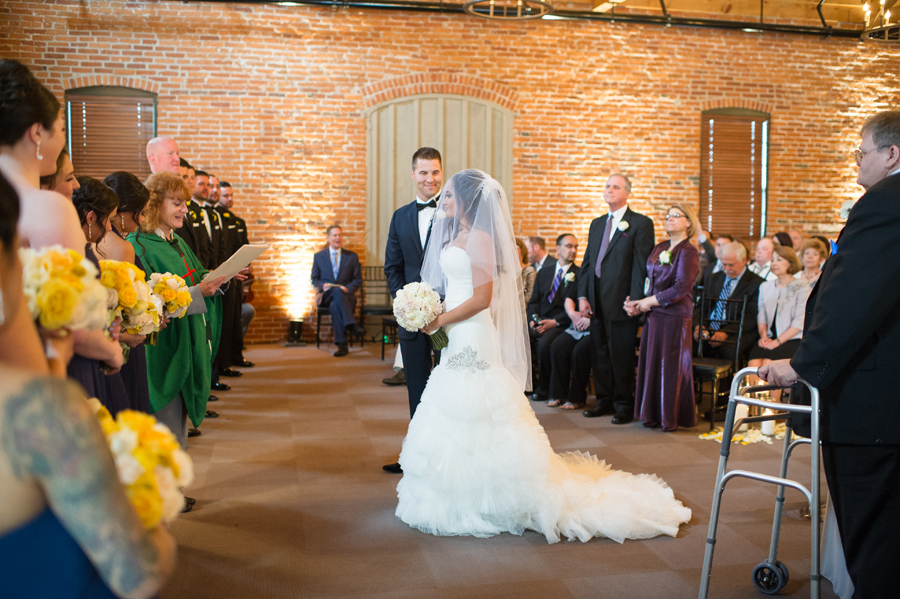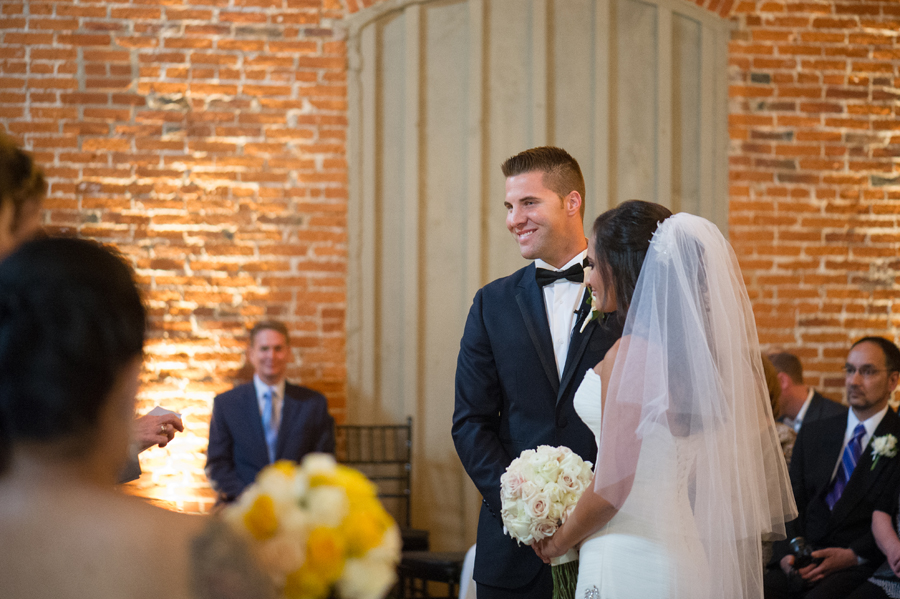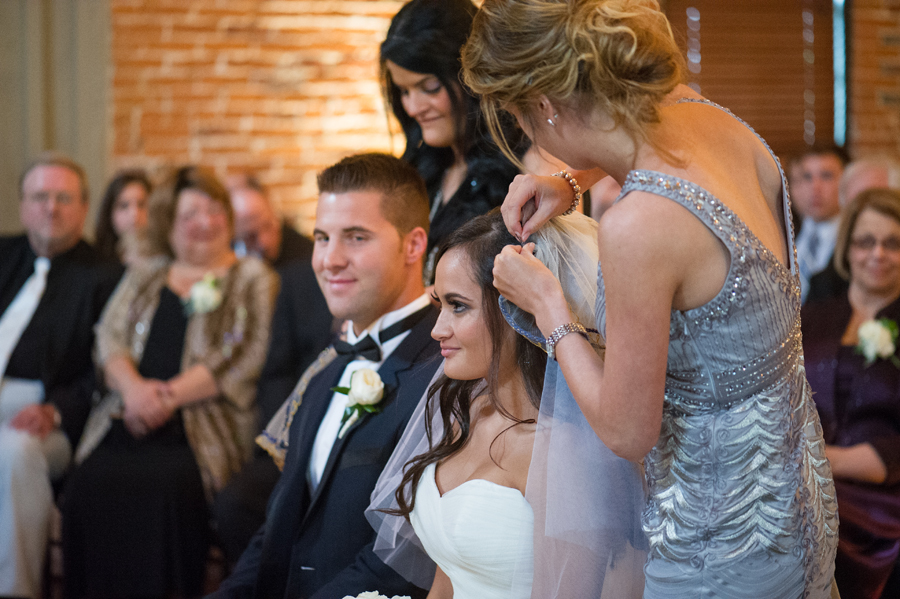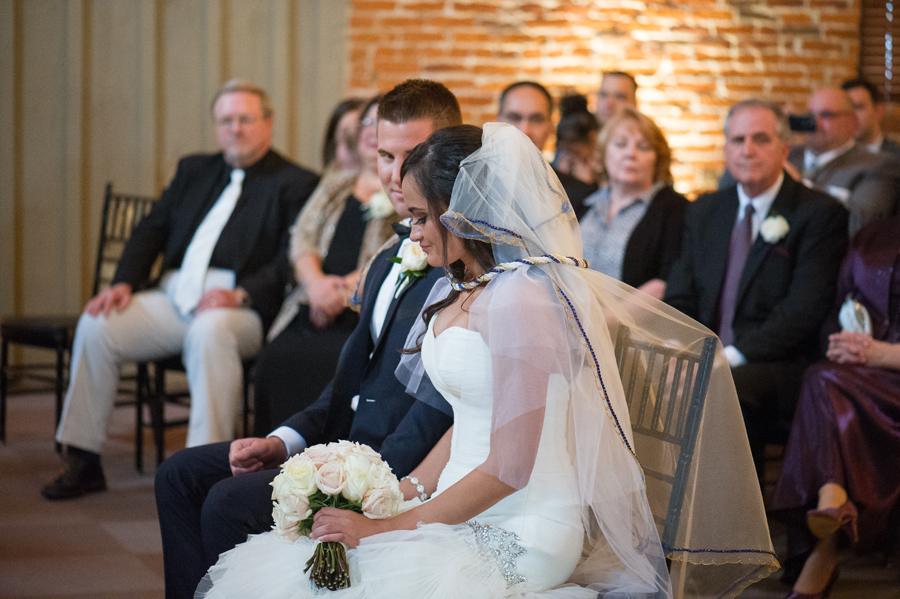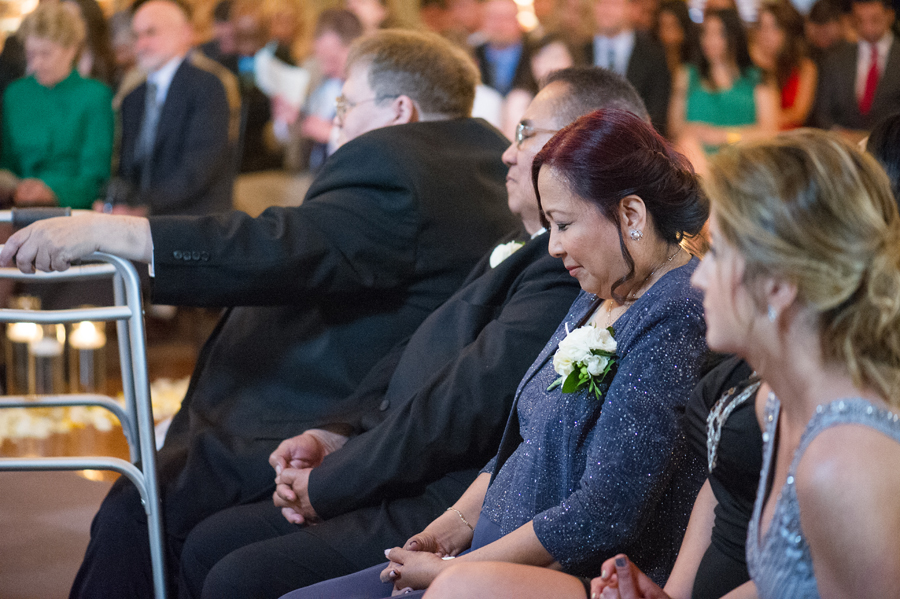 Michelle:  "During the wedding, we made it a point to stop and just take in all of our friends and family present on the most important day in our lives and it was a beautiful moment I will remember forever. Our colors were navy, white and yellow because Nate was opposed to anything pink. We used a lot of candles and flowers to make it girly enough for me. We had almost 150 guests and the place seemed so cozy and full of love. I really didn't want a place where everything seemed too spread out. I wanted to feel my friends and family close to me on our Big Day and the candles really brought the warmth."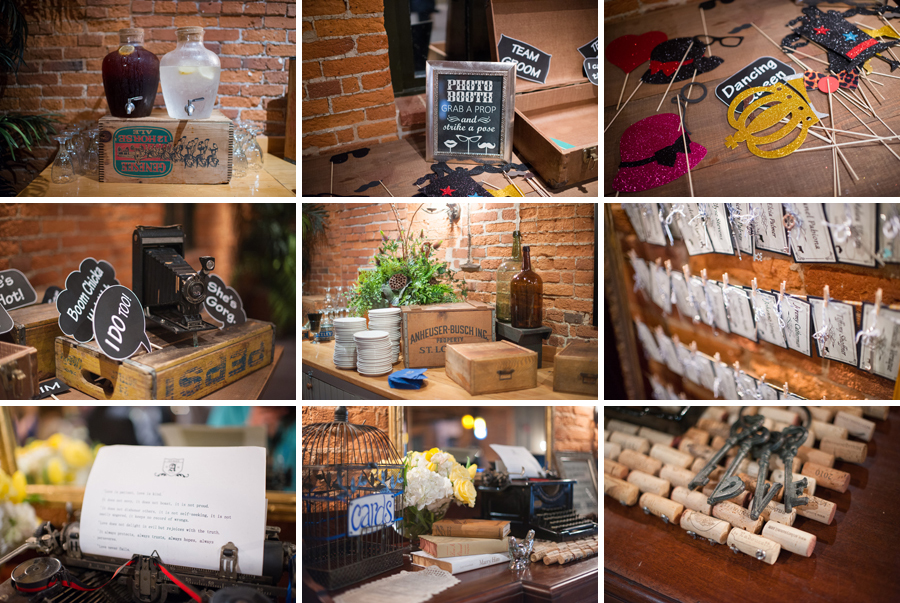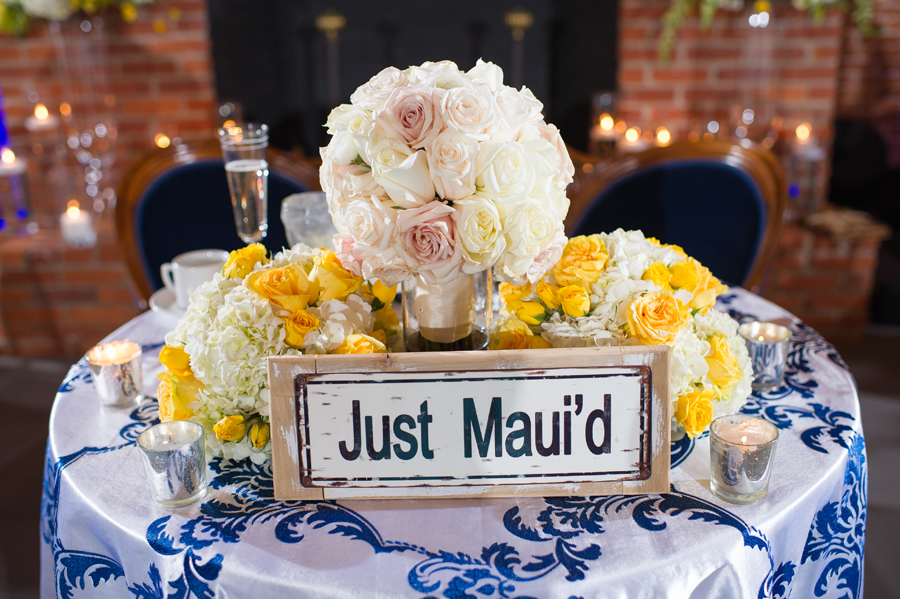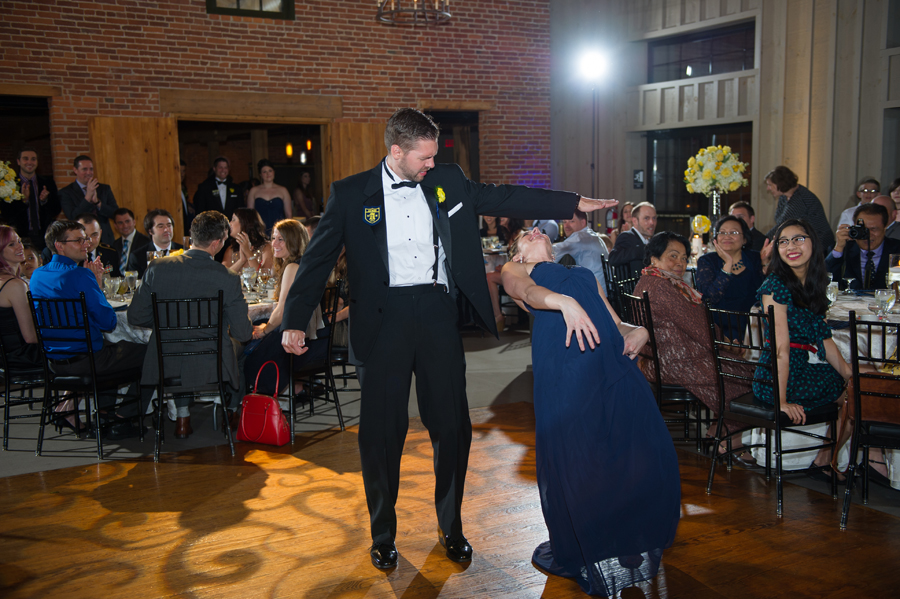 Nathan:  "I loved looking out during dinner and seeing all of my friends and family clapping and singing along with the band and it was only the start of dinner service – that's when I knew it was going be a great party!"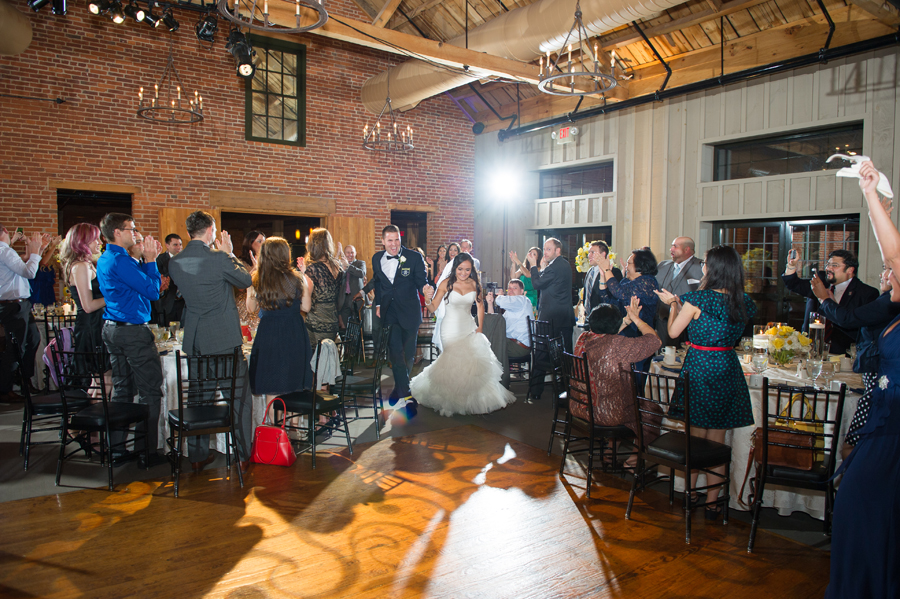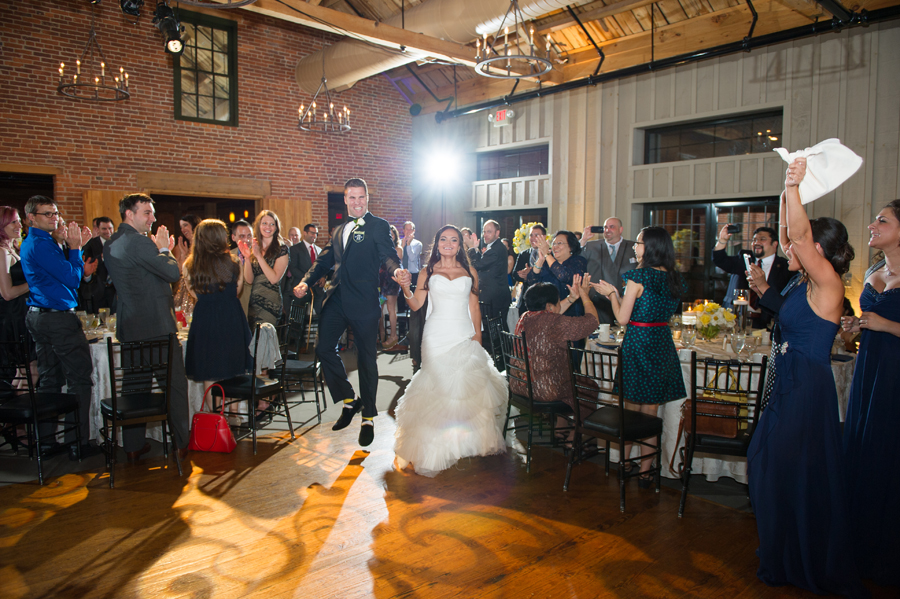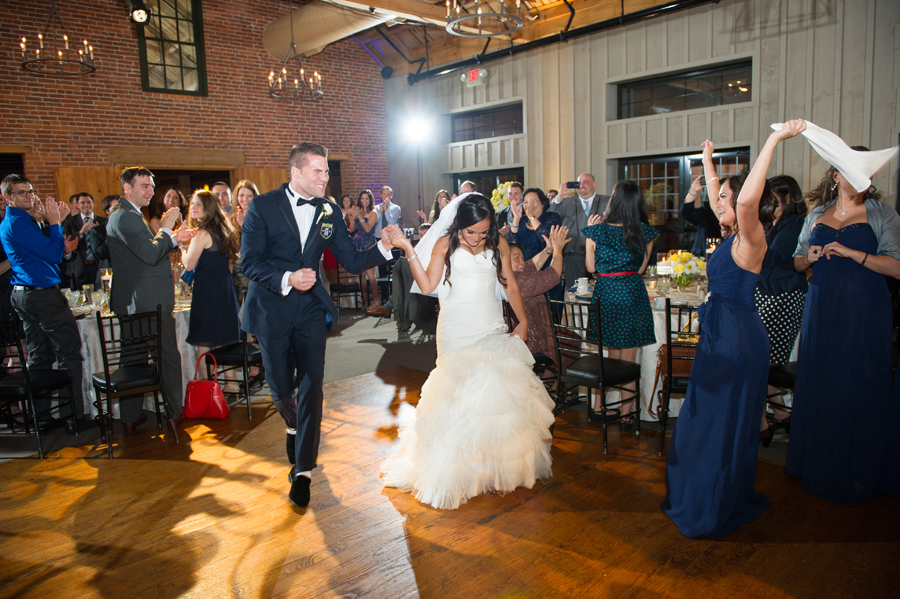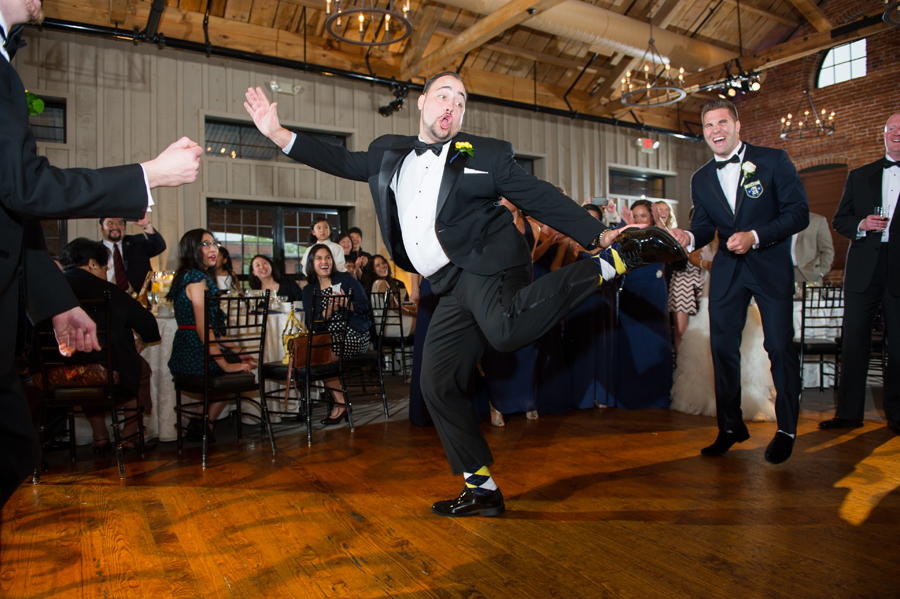 Nathan:  "Some of the little mistakes or mishaps that day, are what we love the most about our wedding months later, and still laugh about now that it is all over. Yep, we forgot to cut the cake!!!"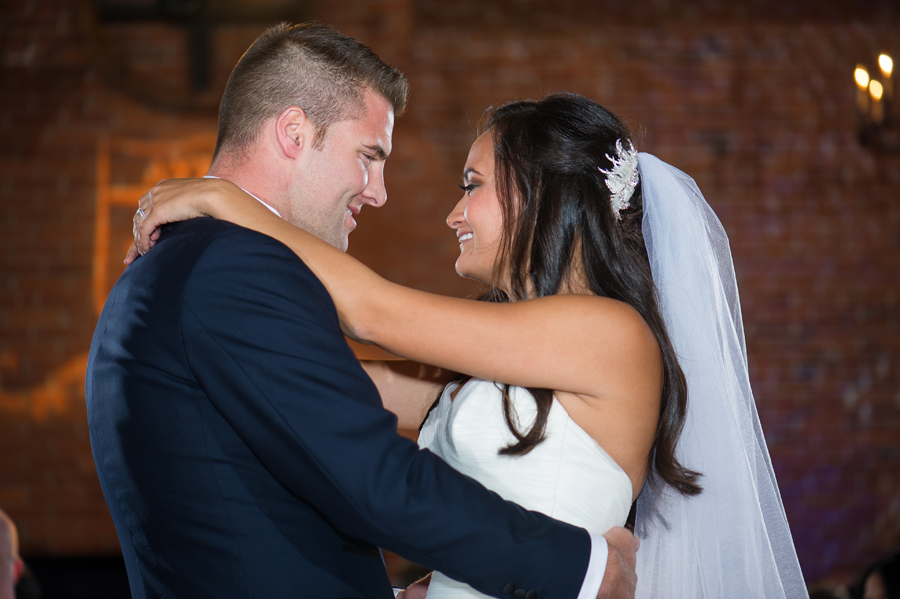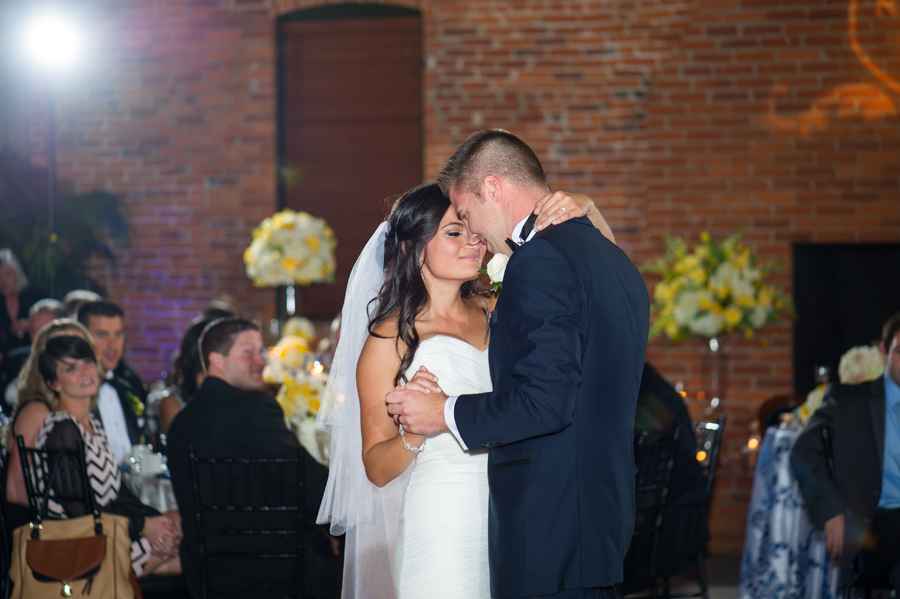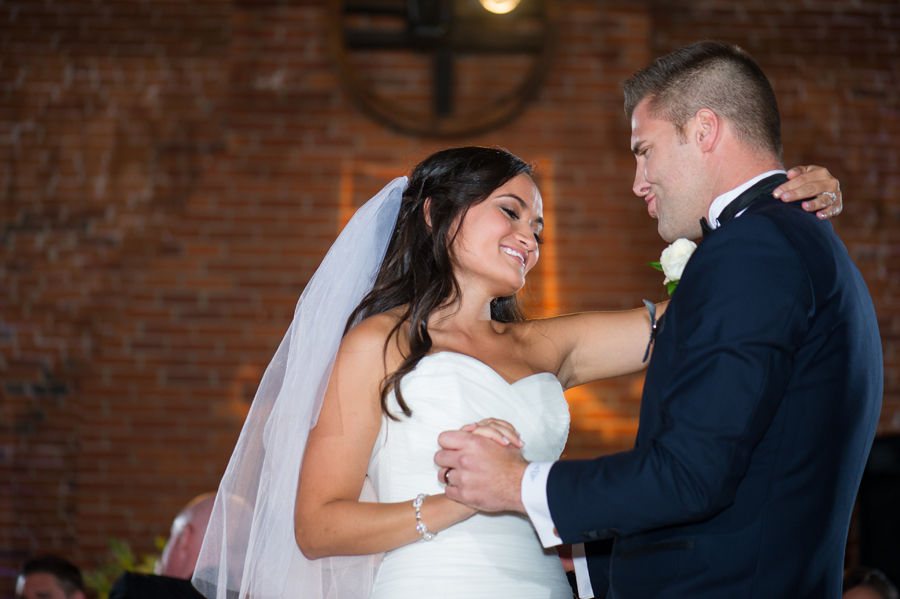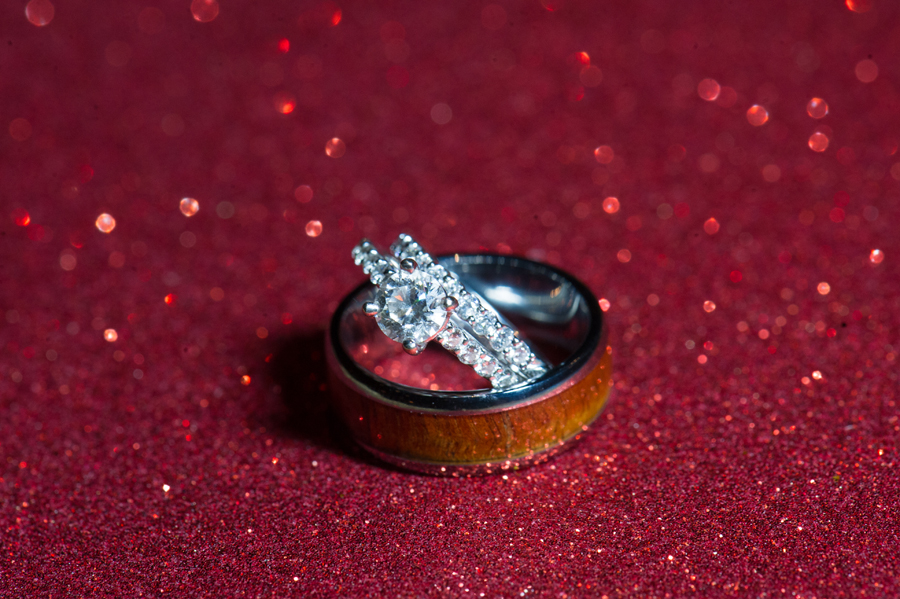 Nathan:  "Hearing all of the wonderful words of pride, love and encouragement from those closest to Michelle and I gave me so much joy and reaffirmation of my choice for a partner in life!"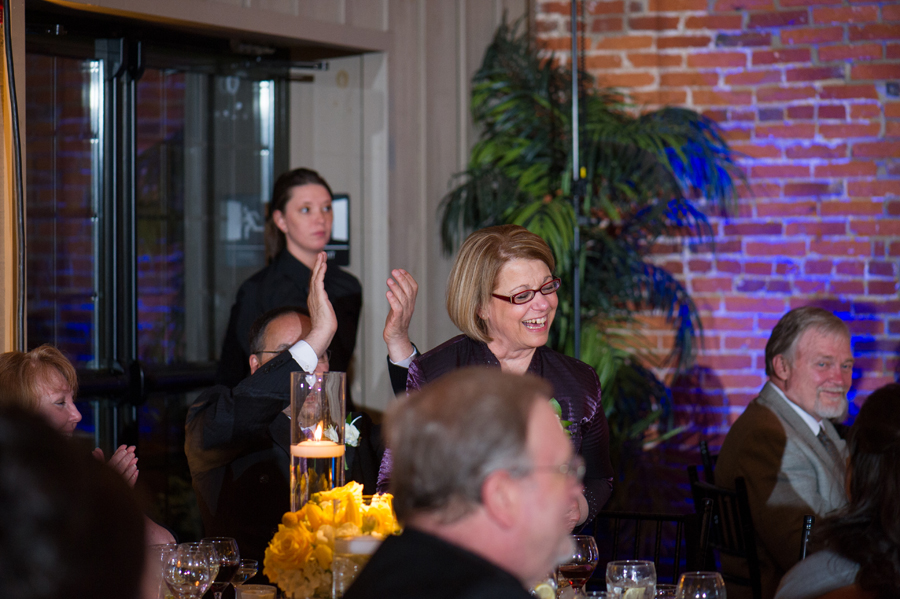 Michelle:  "Instead of a cake, we had a cupcake tower with a top cake tier that we had made specifically for Nathan and I to cut. The cupcakes were three different flavors red velvet, the bride's choice- triple chocolate delight, and the groom's choice- a bourbon and bacon soaked cupcake with peanut butter frosting and candied bacon crumble. The groom's cupcake was everyone's favorite and the first to run out!  As the party got even crazier, we forgot all about cutting the cake and throwing my toss bouquet that I ordered specifically so I didn't throw my real one. Like I said, good thing we aren't the traditional couple, because in the midst of the party we forgot to do all the traditional wedding things!"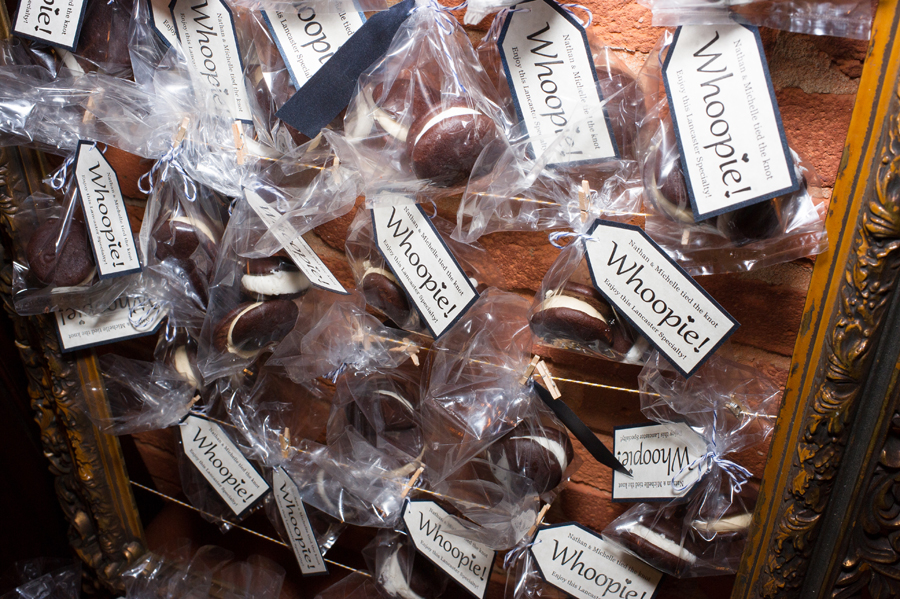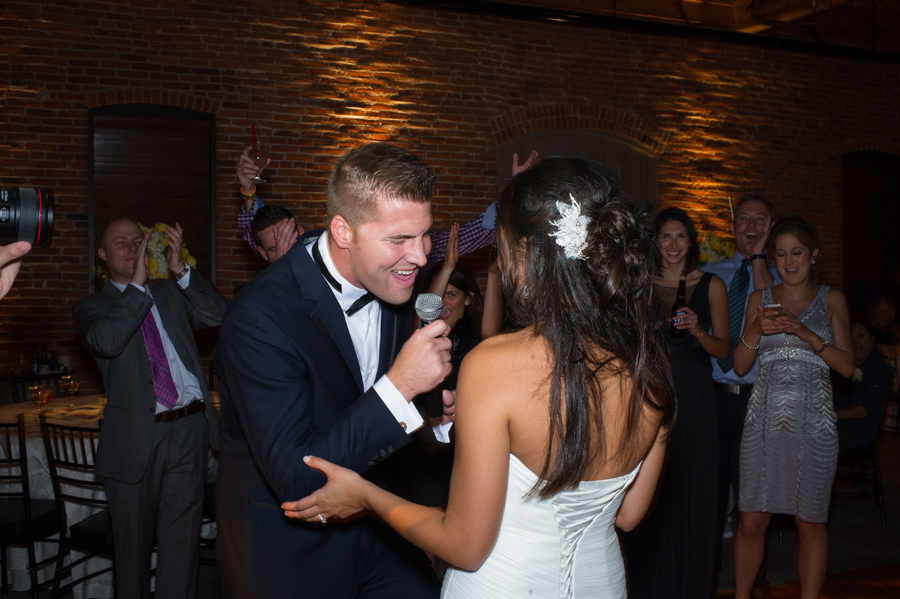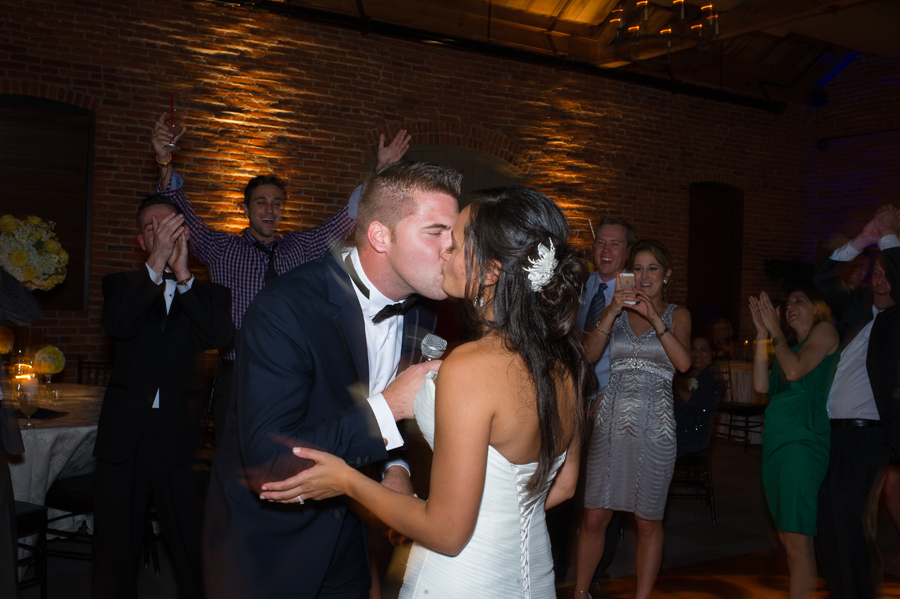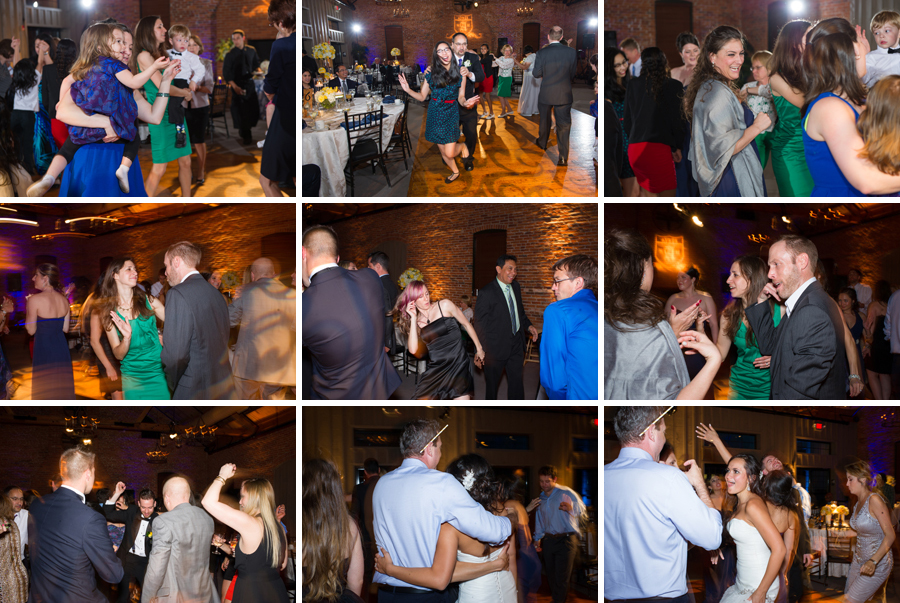 Nathan:  "The sparkler send off was the perfect way to end such a beautiful and fun celebration of our lives!"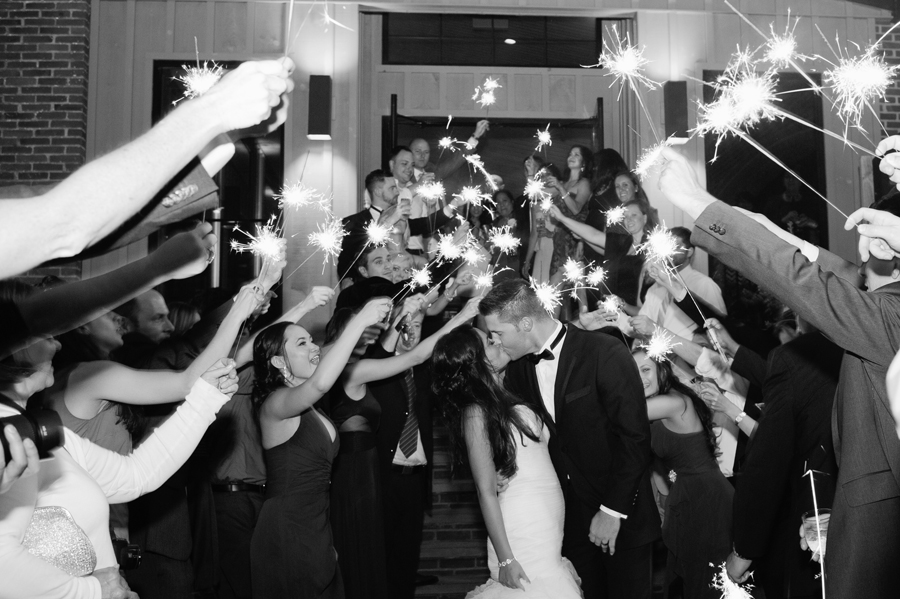 Michelle and Nathan:  "My advice would be for couples to plan their wedding like it's for them, because it is!  Allow the flow of your special day to allow you to be fully present for it.  Sometimes being traditional means not being able to truly see the result of all your plans. Some things we did to ensure we got to be a part of all our hard work was to do a first look, then take our pictures and the bridal party photos before the wedding. We decided to participate in our entire cocktail hour so we could spend as much time with our friends and family.  We got to meet and greet all of our guests in that way instead of while everyone is trying to enjoy dinner. Finally, we kept the entire event in one location so time was spent with friends and family all together rather than traveling from location to location."
"Ben and Jenn were ambassadors of professional customer service from the initial call to the quick delivery of the photos.  They used their style mixed with our feedback to get exactly what we asked for and more.  Both Ben and Jenn were able to lead the bridal party in the right direction when needed, and caught the candid moments we wanted without people even knowing they were there.  Finally, the photo booth was one of the biggest hits of the wedding.  It was perfectly executed and the pictures were up within a few days!!"